17.08.2021 - "Common Sense Economics" book Summer Competition!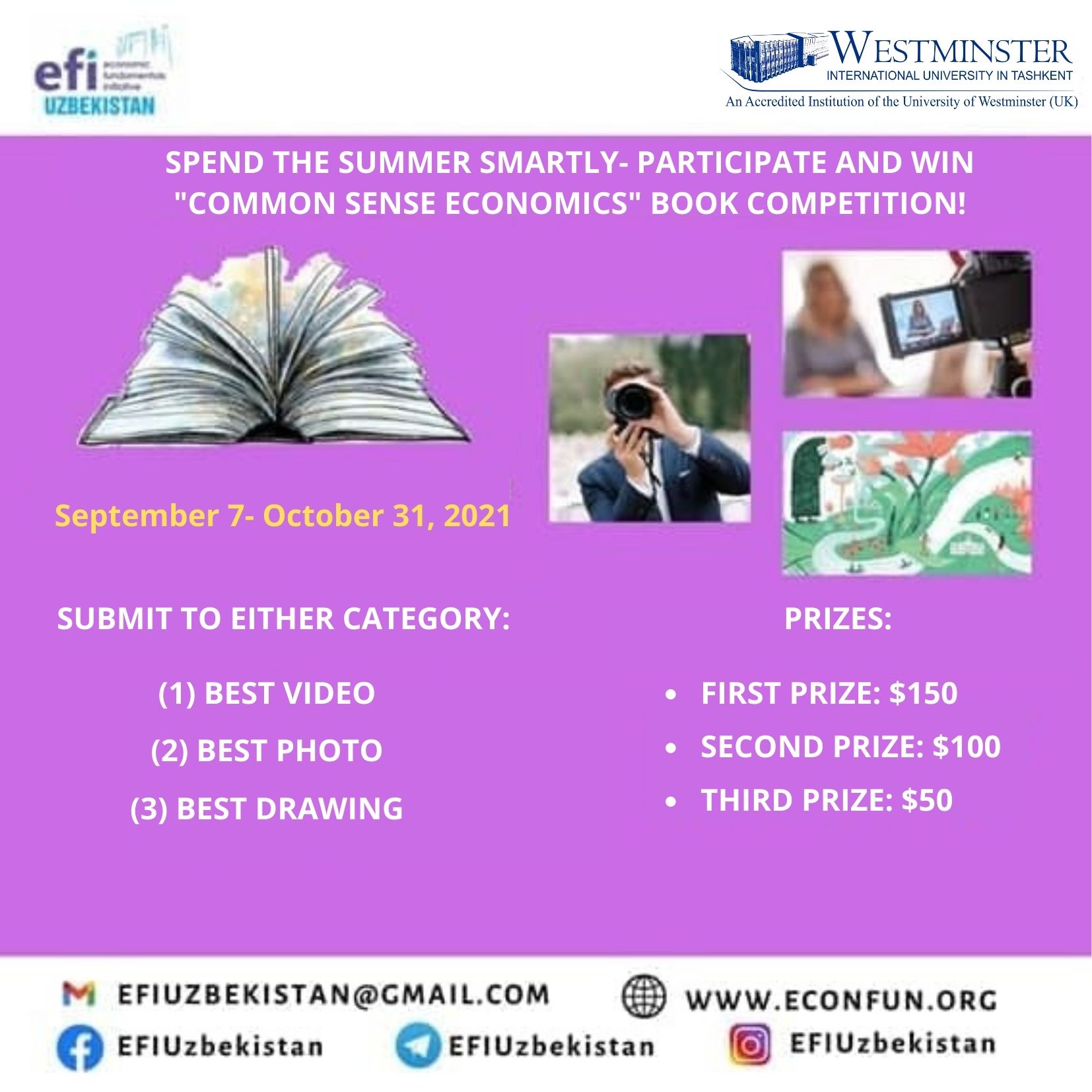 Dear Friends and Colleagues,
​We are very excited to share that "Common Sense Economics" book is now available in Uzbek, Russian and English languages. We strongly recommend this book for all instructors as part of recommended reading list, economics related practical activities and also personal development.
You can download the book for free through the following link: Uzbek, Russian, and English.
​The "Common Sense Economics" book promotion is one of the first projects of Economic Fundamentals Initiative (EFI) non-profit foundation. To find more Information about EFI: https://www.econfun.org/uz/ . This is an international project involving many countries of CEE, Caucuses, and Central Asia. More information about partners: https://www.econfun.org/en/partners/.
​We are also very glad to inform you that WIUT is Lead Academic Partner of "Common Sense Economics" book promotion in Uzbekistan: http://www.wiut.uz/news.
​All promotional activities related to "Common Sense Economics" book in Uzbekistan are managed by "EFI Uzbekistan Team". Promotion activities include off-line and online book presentations, master classes, audio version of the book, developing hubs in each region, "Best essay" (academic) and "Best Transformation story"(non-academic, practitioner) competitions and many others. Please subscribe to EFI pages available in :
1) EFI Uzbekistan Telegram channel:@ EFIUzbekistan

2) EFI Uzbekistan Instagram page: EFIUzbekistan

3) EFI Uzbekistan Facebook page: EFIUzbekistan

4) Gmail: EFIUzbekistan@gmail.com
​Please hurry up to participate and become the winners of the "Common Sense Economics" Summer Competition for which you need to prepare 1 minute video or take interesting photo or draw a nice picture with your family members that illustrate the best your impressions from the book. Other details of competition including awards are in the attached file. Creative submissions will be highly valued.
Thank you !

Kind regards,

EFI Uzbekistan & WIUT colleagues.