15.10.2021 - Trials to SAGE databases: Data Planet and Sage Campus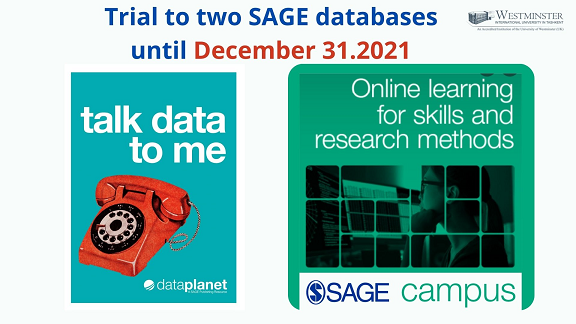 What is Data Planet?
The Data Planet the largest single repository of harmonized and structured statistical data available to libraries.
The Data Planet repository serves up more than 52 billion data points from 6.2 billion dataset sourced from reputable public and private organizations, including the US Census, Eurostat, Dow Jones, the United Nations, the International Monetary Fund, and much, much more.
The datasets cover topics across 16 broad subject areas, including: education; population and income; industry, business and commerce; and housing and construction. Additional information on datasets and sources can be found here.
All of the datasets currently in Data Planet are updated as new data are provided from the source organization. This could be daily, weekly, bi-weekly, monthly, annually, or on a multiple year or variable periodic basis.
The repository is available via two interfaces:
· Data Planet Statistical Datasets, which provides powerful capabilities to dynamically compare and manipulate the billions of statistical indicators available in the Data Planet repository.
· Data Planet Statistical Ready Reference is built on the same content repository, but the landing page is a simple search box. Results can be viewed as DataSheets, which display an infographic of the trend, ranking, chart, map of interest, along with descriptive information about the indicator. From the DataSheet, you can also link into the Statistical Datasets interface to further explore the dataset and related statistics.
More information on these resources can be found in the Data Planet Search Guides. A video introduction to Data Planet is available here.
​What is SAGE Campus?
The SAGE Campus​ platform provides 250+ hours of structured online learning for skills and research methods. The courses are self-paced, and instructor-led, packed with an engaging mix of video, interactives, formative assessments and more. Our user-friendly platform makes it simple for faculty to assign courses, or for students and researchers to learn autonomously - building practical skills for study, research and the workplace.
What are the online learning topics?
The courses cover critical skills and research methods across all stages of academic study, including the below categories:
Navigating information

Data literacy

Data science skills

Research skills

Getting published
You can browse all courses on the SAGE Campus platform.