28.02.2022 - A. Qodiriy's "O'tkan kunlar" (4th Session)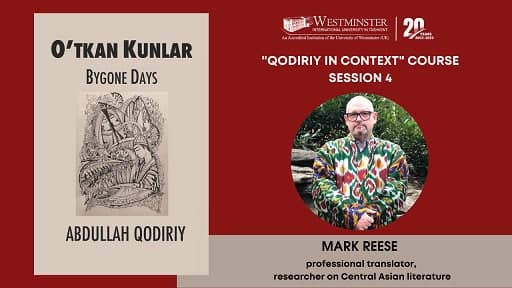 🔊Dear all,
📒📕You are cordially invited to join the 4th online session of "Qodiriy in Context" course which is organised in a collaboration with WIUT LRC and Arizona State University researcher - Mark Reese.

We are looking forward for your active participation in this event.
⬇️Please follow the Zoom meeting link below:
WIUT LRC's Qodiriy in Context session 4 with Mark Reese - ASU Researcher
🗓Date: February 28, 2022
⏱Time: 07:30 - 8:30 PM Tashkent
📌Join Zoom Meeting
https://us02web.zoom.us/j/89672516578?pwd=em9hVStzUTFic2ZKZk0vNUQ5THYvdz09
Thank you,
All the best,
LRC Team.